Mika Huhtamäki – Nordic voice to MyData Global
I have been pushing forward human-centric services in a public-private context since 2007, and I have been working together with the MyData Global community since 2017. Now I´m applying for MyData Global Board of Directors.
Statement of Motivation
As a founding member, I am very committed and motivated to drive our MyData movement forward by turning the declaration into an actionable reality for people and leading the association towards a prosperous future.
MyData Global 2022 – Your Thoughts
For me, vision starts from personal curiosity and passion to learn new and grows from creativity. We must take global leadership in the human-centric approach to capitalize on the opportunity that the recovery to new normal offers and requires.
I look at the upcoming year from three perspectives:
Accelerating the development from principles into actionable opportunities for people.
Increase collaboration and strengthen the ecosystem of operators.
Bridging the caps and uniting different ecosystems and organizations for a sustainable future.
Skills, Experience, and Qualifications
I have a pioneering mindset and enjoy creating new, bringing innovations to life. I am also an active investor and follow closely how the market dynamics are changing. I have a broad understanding of the wide landscape around MyData from the technical and business perspectives as well as legal and societal/ethical.
For my day job, I lead Vastuu Group as Deputy CEO and various initiatives like the Findy (Finnish public-private SSI network) cooperative as a founder and a board member. Most of my time goes to leading the development of MyData Operators from our perspective including the bridge-building between ecosystems. My educational background comes from computer science, political sciences, and arts & design and I am also a professional and certified board member.
Let's build the future, together.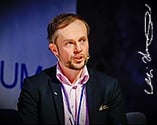 Mika Huhtamäki, Deputy CEO Vastuu Group
Endorsers
Bo Harald Member of the MyDataGlobal Steering Group
Dixon Siu MyDataGlobal Board Member | Personium & Fujitsu
Mikko Rusama Chief Digital Officer | Helsinki
Matthias De Bièvre Visions | A New Governance | MyData Skills